Crepey skin or skin that has fine wrinkles and appears thin is more common in older people, and can result from several causes.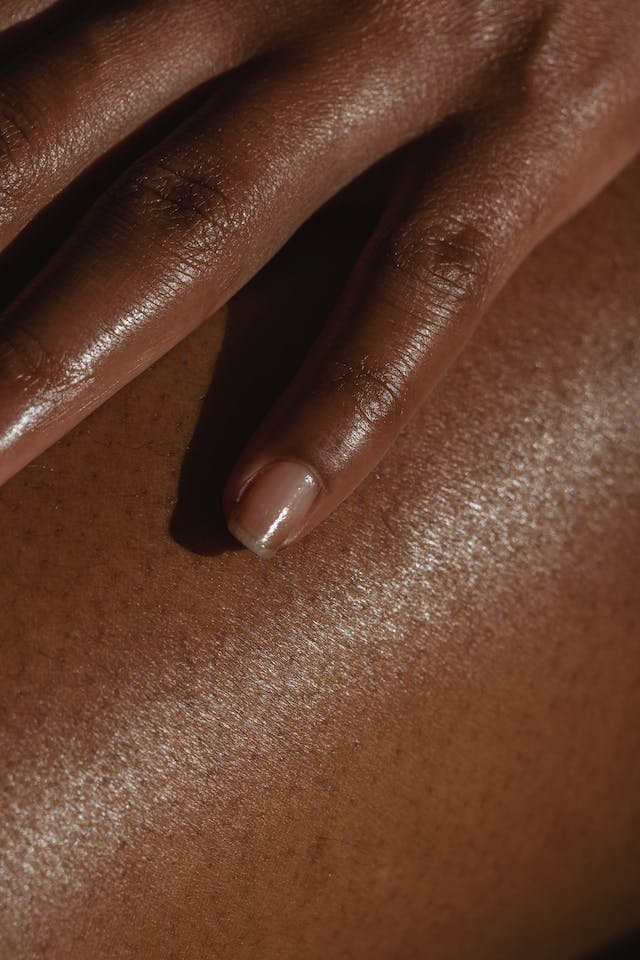 Treatment of crepey skin
Multiple treatments may be used to reduce crepey skin.
The cause of creping and the location on your body will determine what treatments are best regardless of the cause.
If you treat it soon enough it will create a noticeable change in its appearance, texture, thickness and support.
At home Natural Treatments
Nutrition
Such as omega-3 fatty acids and vitamins A, C, D and E are also important.
Vitamin C
Vitamin C promotes collagen production which means it can thicken the skin which will give a plump & firm look.
Vitamin C is the most important ingredient you need in your skincare routine.
It's found in citrus like "oranges, kiwi, lemon, grapefruits", bellpeppers, strawberries, guava tomatoes, white potatoes.
Cruciferous vegetables like " cabbage, cauliflower, broccoli, and brussels".
Vitamin A
Vitamin A is also important for the skin, the best sources of vitamin A include carrots, squash, eggs, milk and fish.
Vitamin D
Vitamin D can be found in liver, canned fish, tuna, salmon, cereals and oysters.
Vitamin E
Vitamin E can be found in sunflower seeds, avocado, almond, spinach, peanut, wheat germ oil, asparagus and leafy greens.
Avocado
Has many vitamins such as B, C, E, K, magnesium and essential mono and polyunsaturated fatty acids.
Making it an excellent antioxidant and anti-inflammatory agent.
Oatmeal
Also exhibits anti-inflammatory effects and along with yoghurt and honey helps trap moisture in your crepey skin.
Mix 2 teaspoons of avocado paste with 1 teaspoon of colloidal oatmeal, 1 teaspoon of yoghurt and ½ tablespoon of honey.
Apply the mix on the crepey areas and wash off after an hour to hydrate your crepey skin.
Gotu Kola
It's known as nature's botox therapy for its amazing anti-ageing effects.
Rosehip oil contains powerful antioxidants such as vitamins C, and E, carotenoids and polyphenols that combat free radical skin damage.
Soybean oil
It has an extraordinary compound known as isoflavone which can stimulate collagen and hyaluronic acid production.
Adding drops of frankincense oil enhances its antioxidant properties.
Ayurveda propagates moringa
it's considered a strong skin-rejuvenating herb due to the presence of various phytochemicals such as flavonoids, tannins, coumarins, phenolic acids and glycosides.
Take 2 tablespoons of soybean oil and add 2 to 3 drops of frankincense essential oil to it.
To this add 1 ½ tablespoon of moringa powder and mix well.
Apply this pack on your crepey skin and wash it off after 40 minutes to an hour.
Panax ginseng
It's more popularly known as Korean red ginseng, is an age-reversing miracle herb extensively consumed and topically applied to improve facial wrinkling.
Fermented red ginseng
It's said to be a useful crepey skin treatment when compared to the unfermented one.
Take 1-2 tablespoons of panax ginseng powder mix it with any nourishing carrier oil and apply it on crepey skin under your eyes and on the neck.
Leave it on the affected area for 30 to 40 minutes and wash off.
Punarnava
It's one of the anti-ageing herbs and extensively used in Ayurveda to restore skin health.
It has its therapeutic benefits for a wide range of phytochemicals such as flavonoids, isoflavonoids, alkaloids, phenols and glycosides.
Triphala
Is a common medicinal herb that balances and treats various skin conditions.
Carrot seed oils
Moisturizing and cell renewal properties help reduce wrinkles formed due to crepey skin.
Mix punarnava and triphala in equal amounts and add a sufficient amount of carrot seed oil to make a well-mixed paste.
Apply on affected areas and wash it off after an hour.
Also honey and coconut are natural moisturisers that can tone down the appearance of crepey skin.
In addition, these two ingredients have antibacterial restorative qualities.
The best thing you can do at home is make sure you're using face and body cleansers.
That don't strip your skin of its natural lipid and protein barrier and properly moisturise when you're done cleansing.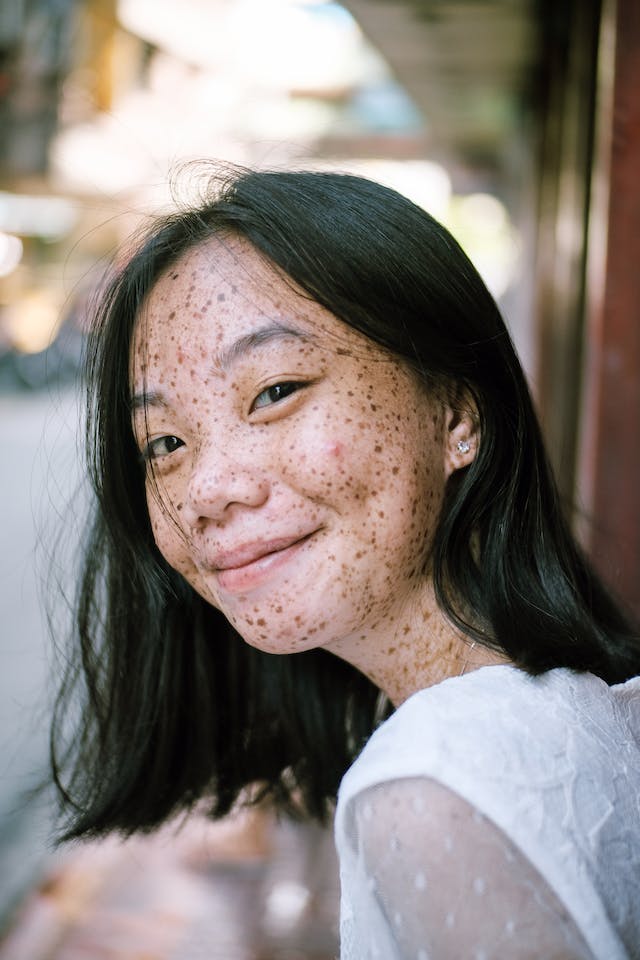 Causes of crepey skin
Wrinkles may be similar to crepey skin in many ways.
Crepey skin is a different skin condition that can occur as people age or due to genetic and environmental factors.
Sun damage is the most powerful cause of crepey skin but it certainly isn't the only cause.
Crepey skin can also result from ageing, lack of moisture, excessive weight loss or any combination of these.
Also medication such as prednisone, pollution, smoking, sleep deprivation and difficulty eating a balanced diet
.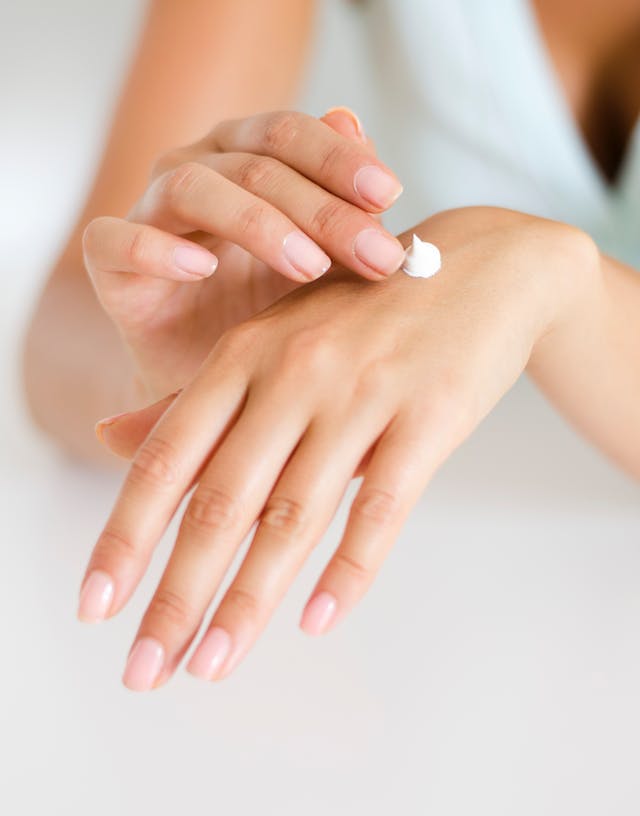 How to prevent crepey skin
It's important to protect your skin from sun damage to prevent crepey skin.
Stay out of the sun as soon as possible and always wear sunscreen and sun-protective clothing.
Products with glycerin or hyaluronic acid are recommended to prevent or to improve the appearance of crepey skin.
So your skin stays hydrated and plump moisturizing oils like coconut oil and olive oil, and cocoa butter can also help moisturise and soften your skin.
Avoid tanning and tanning beds.
Quit smoking.
Eat a well-balanced diet
Drink less alcohol, which is very dehydrating.
Get regular exercise, which can boost the immune system, and may give skin a more youthful appearance.
Wash your skin gently and regularly, especially after sweating.
Massaging the face, arms, and legs.
Doing physical exercise.
Reducing stress.
Getting a good night's sleep.
Exfoliating with a homemade scrub made from sugar and olive oil 1–2 times a week, as exfoliating too much can damage the skin.
Apply moisturizer daily, to lock in skin's moisture for a more supple appearance.
Prevent using skin products that sting or burn, unless prescribed by a doctor.
Finally, the most important treatment is to drink plenty of water to keep your skin hydrated from the inside since dehydration can worsen crepey skin conditions.
Conclusion

Crepey skin can be cured by non-medical products including good nutrition.

And a combination of natural masks applied to the crepey skin otherwise medical products will be used.