Hair Straightening Products, Why would you go for them? Are you tired of your constant trials to have the sleek and glamorous look you have always admired?
Have you ended up visiting the beauty salon and paying what is in your pocket to have a smooth and straight finish?
Have you used to wake up earlier so you can have time straightening your hair before going to work wasting time and effort without getting the perfect result? If you are one of those, this article is made for you.
Hair Straightening Products in the past to the millennium:
Hair Straightening Products used to be hazardous products as you put the health of your hair at risk starting from brittle and fragile hair and ending weighing down your hair.
Fortunately, this all ended in the past few years as numerous products have been released into the market to provide both safety and efficacy. Regardless of your hair type, (whether it is wavy, curly, or even kinky); the perfect product for your hair is inevitably available and you can easily transform your rebellious hair into a glossy and silky one.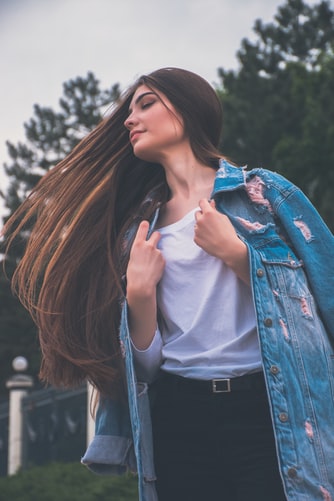 What are the secret ingredients of hair straightening products?
These include products, such as heat straightening creams that contain a key ingredient, like silicone or keratin, both of which smooth hair, reduce frizz and flyaways, and save your precious time.
They also can be used as a heat protectant and have ingredients—like shea butter and glycerin—that leave your hair soft and shiny. So, instead of taking your hair through hell trying to tame the coils or curls, go for Hair Straightening Products and you will not regret it for sure.
Let us dive into the secrets of beautiful sleek and shiny hair in 2021:
Best Hair straightening creams
1-Tigi Bed Head Straighten Out Straightening Cream
It includes hydrating glycerin and smoothing polymers that keep your hair straight for hours.
2- Suave Professionals Anti-Frizz Cream
It is a lightweight cream that contains silk protein and vitamin E to keep your hair moisturized and minimize flyaways to a noticeable degree.
Hydrolyzed silk protein involves cysteine, which in turn produces new keratin and reinforces the hair. It creates a protective barrier around each hair strand, as silk protein is the strongest natural fiber.
3- Bumble and bumble Bb. Straight Blow Dry Cream
It is a heat-protective and blow-dry cream that keeps your hair smooth, sleek, and frizz-free for up to three days.
The non-greasy and lifesaving formula for curly hair straightens strands, tames flyaways and protects hair from heat and humidity while smoothing and sealing hair for soft style. Massage it into damp hair, blow-dry section by section, and then finish it off with a flat iron.
4- Matrix Total Results Mega Sleek Blow Down Smoothing Leave-In Cream
Out of all Hair straightening Products, Mega Sleek Blow Down Leave-in Cream is the best option for lightweight hair straightening cream as shea butter provides heat protectant and frizz control for fast blowouts and up to 5X smoother hair with salon-perfect results.
5-
Oribe Straight Away Smoothing Blowout Cream
Among all these mentioned Hair Straightening Products, this formula is free of parabens, sulfates, or sodium chloride. It is safe for colored and keratin-treated hair. In addition, it is vegan; both cruelty-free and gluten-free, and provides UV protection.
6- Olaplex No. 6 Bond Smoother Reparative Styling Cream
A leave-in reparative styling cream that eliminates frizz hydrates and protects hair strands. All you have to do is apply a very small amount to damp or dry hair, and focus on mid-lengths to ends then Comb through and style. It can be used daily on wet and dry hair and the result lasts for up to 72 hours.
Hair Straightening Infusions
7- Keratin Complex Infusion Therapy Infusion
The secret ingredient as it is said is keratin that overlaps to form hair strands, thus making your hair more manageable and less frizzy. It also reduces the look of split ends by temporarily bonding the hair back together. You can apply it on dry hair then flat-iron as usual and voila here you are as if you got out of the salon.
8- Aveda Smooth Infusion Glossing Straightener
It is loaded with a shine-enhancing blend of aloe, maize, and guar bean to smoothen and straighten your hair.
Hair Straightening Sprays
These Hair Straightening Products can do magic to your hair
9- IGK Good Behavior Spirulina Protein Smoothing Spray
It strengthens your hair thanks to spirulina protein.
10- It's a 10 Miracle Leave-In Plus Keratin Spray
The magical blend of sweet almond oil, amino acids, and hydrolyzed keratin in this leave-in hair-straightening product is the optimal choice for dry hair.
11- John Frieda Frizz Ease Straight Semi-Permanent Styling Spray
It protects against heat damage and seals in long-lasting straightness without weighing hair down. It also reduces frizz and creates a straight and smooth style that lasts up to 3 days.
12- Giovanni Straight Fast Hair Straightening Elixir
Thanks to the blend of vitamin E, pro-vitamin B5, and glycerin, this animal-friendly, cruelty-free hair-straightening is parabens and silicone-free All Giovanni products contain no parabens, so it is perfect for those who follow the curly girl method.
Others
13- Kérastase Discipline Blow-Dry Smoothing Primer
This thermal protecting hair fluid is formulated with Morpho-KeratineTM to tame frizz amp; restores hair fiber's uniformity amp; solidity. It also contains Gla ccedil; age Thermo-Seal to facilitate styling and is loaded with auto-reticular polymer to protect against humidity.
14-Redken Align 12 Protective Smoothing Lotion
Redken Align 12 Protective Smoothing Lotion is one of the best professional Hair Straightening Products that protects all hair types against humidity and heat.
15-L'anza Healing Smooth Smoother Straightening Balm
Thanks to the organic coix-seed extract and shea butter in the balm-like formula, it conditions your hair and keeps the long- lasting sleek style.
Summary

Not only do Hair Straightening Products provide a convenient solution for frizzy and rebellious hair, but also save your money and time.
By: Dr/Hoda Elasmar
Read about: Hair Products
Read about: Hair Products
Read about: Hair Products
Read about: Hair Products
Read about: Hair Products