Taking care of our pets is a life-learning journey and that's where Cobbs Ford Vet Clinic comes in handy, They are an American Animal Hospital Association (AAHA) accredited hospital.  
Having qualified veterinarians who have the qualifications and experiences needed to treat our pets is a must, for they are the ones who could potentially save our pets' lives one day. 
Cobbs Ford Vet Clinic provides offers us all the medical services and help pets need in one place. Their veterinarians are not only licensed and capable of caring for the health of our pets but also for their entire being. 
Cobbs Ford Pet Health Center
What is AAHA?
Our pets are our friends and part of the family, they deserve the best, and choosing a good pet health center is essential for them to live a long and happy life.
So what does it mean for Cobbs Ford Vet Clinic to be AAHA accredited? The AAHA is the only organization that accredits veterinary practices and hospitals in both the U.S. and Canada.
These AAHA-accredited hospitals are evaluated on stringent quality standards that encompass all aspects of veterinary medicine, that includes pain management and patient care as well as team training and medical recordkeeping.
For Cobbs Ford Vet Clinic to be AAHA accredited means that it has been evaluated on approximately 900 standards of veterinary excellence as an animal hospital. 
To maintain its accreditation, Cobbs Ford Vet Clinic must undergo a rigorous review by veterinary experts every three years.
This is reassuring since, unlike human hospitals that must be accredited through an accrediting body, accreditation for animal hospitals is voluntary.
 That is why not all animal hospitals pursue being accredited since it is not required by law. find more about AAHA-accredited health centers and services on their website.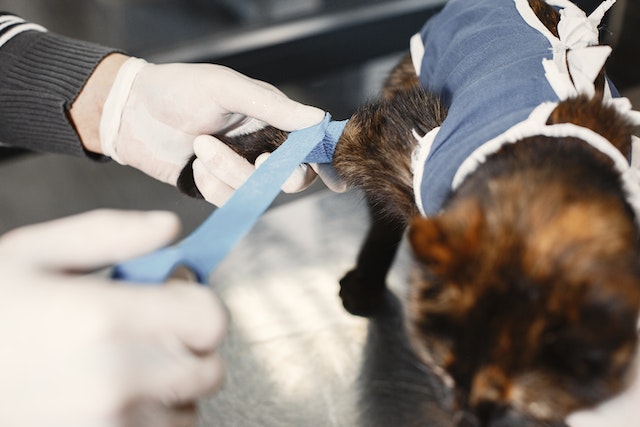 Why choose Cobbs Ford Vet Clinic
Finding the right pet health center is as challenging as finding the right physician for you and your family, so make sure to use the same care and criteria as you do when selecting a physician or dentist. 
Here is what you should look for when choosing one:
Credentials
We want our pets to be treated by people who know what they are doing and have the qualification and experience to treat them and as I mentioned before, Cobbs Ford Vet Clinic is AAHA-accredited. 
That means they have the knowledge and expertise to treat our pets properly and they keep up with the latest advancements in the industry.
You can tell whether a practice is accredited because it will display signs, flags, plaques, and brochures with the red-and-white AAHA logo. 
Medical Services Provided
The range of medical services provided is one of the most important criteria for selecting your veterinarian. Having all the necessary tools and equipment to help our pets stay healthy is a must.
Cobbs Ford Vet Clinic offers a wide range of services such as:
Pet Health 
Cobbs Ford Vet Clinic provides comprehensive care for small animals 
Vaccines
Vaccines are common things required for your pets during different stages of their life, they work the same way human vaccination does by helping your pet's body to produce antibodies to ward off viruses and bacteria.
Dental Care
Cobbs Ford Vet Clinic has a dedicated dental care suite to take care of your pet's dental needs, it also offers digital dental x-rays.
Dental issues would cause pets a lot of pain. Having your pet's teeth checked regularly will prevent tooth loss, oral pain, bad breath, reduced appetite, and even heart and kidney disease.  
Small Animal Medical & Laser Surgery
The use of laser in treatment reduces pain and shortens healing time on your pet should surgery be required.
Emergency Services
Cobbs Ford Vet Clinic offers urgent care services between
7:00 am - 6:00 pm Monday through Friday.
8:00 am-1:00 pm on Saturday. 
12:00 pm-6:00 pm on Sunday. 
They continue 24/7 medical care for hospital inpatients with an experienced emergency technician staff.
During holidays urgent care service is available 0:00 am-4:00 pm, for Christmas Eve and New Year's Eve, Cobbs Ford Vet Clinic has these services available between 12:00 pm-6:00 pm.
Grooming Services
Cobbs Ford Vet Clinic offers professional grooming services for both cats and dogs. 
"Services For The Day" drop-off
You can drop off your pet for the day so that proper treatment can be done without interfering with your daily routine.
SPECIALIST ON STAFF
Cobbs Ford Vet Clinic has a Certified Veterinary Ophthalmologist that provides eye exams and cataract surgery to the pets of their clients and for other veterinarian clients by referral only.
Cobbs Ford Vet Clinic also provides:
- K Laser Therapy
- Digital Radiography
- Ultrasound & Telemedicine 
- Luxury Pet Resort
- Pharmacy
- Pet Foods
- Reproductive Services 
Recommendations
Ask around animal-owning friends. Ask why they choose them and about the services offered. 
You can also check good sources of information like BBB, if your community has a Better Business Bureau (BBB) inquire about the health center you have chosen.
Schedule a visit to the facility without your pet and check it out. If you are seeking a pet health center for the first time, you should look for a place that offers you a virtual tour of the site.
This will help you overcome your first-visit anxiety and let you know what they offer and if they have everything your pet needs.
Check the cleanliness of the facility. If it looks a little dirty or dingy, that is a sign to move on. Since it's a health center, it should be as clean as human hospitals.
You can also go through their online reviews and see what other pet owners who went there have to say.
But don't completely rely on them when choosing a facility because the reviews may not reflect the average client experience, pulse word of mouth is more reliable. 
Friendliness and commitment of doctors and staff
Before sending your pet to be treated or for a drop-off check if it will be loved and cared for or not. 
Office Hours
- Clinic Hours
Hospital Regular Hours
Monday-Friday: 7 am- 6 am 
Closed Tuesdays: 12 am- 2 pm for the staff meeting
Saturday: 8 am- 1 pm
Urgent Care Hours
Monday-Friday
7:00 AM - 6:00 PM
Saturday
8:00 AM - 1:00 PM
Sunday
12:00 PM - 6:00 PM
Major Holidays
Urgent care services are available between 10:00 am-4:00 pm, for Christmas Eve and New Year's Eve, services are available between 12:00 pm-6:00 pm
Services outside of these hours incur an additional cost when permitted.
- Boarding & Day Boarding Hours
Monday-Friday 
7:00 AM - 6:00 PM (daycare and boarding drop off and pick up). 
CLOSED Tuesdays from 12 PM-2 PM for the staff meeting
Saturday
8:00 AM - 1:00 PM (pick up and boarding drop off)
Sunday
3:30 PM - 5:30 PM (only boarding pick up)
Major holidays
Closed but prepaid boarding pick up allowed at 4:00 pm
- Grooming Hours
Monday-Friday
7:00 AM - 6:00 PM
Grooming Drop Off
7:00 AM - 9:00 AM
Contact Info
Tel: (334) 285-3331
Email:petsfirst@cfphc.com
Fax:(334) 285-3055
Address: 2162 Cobbs Ford Road
Prattville, AL 36066
Summary

Cobbs Ford Vet Clinic is your go-to to ensure your pets stay healthy and happy. It offers a wide range of services that makes life easier and healthier for you and your pet.
Read more about: